Pickup dashboard and revenue management
Built-in auto flexi pricing with revenue management fundamentals can automate your clever pricing strategy and increase your revenues.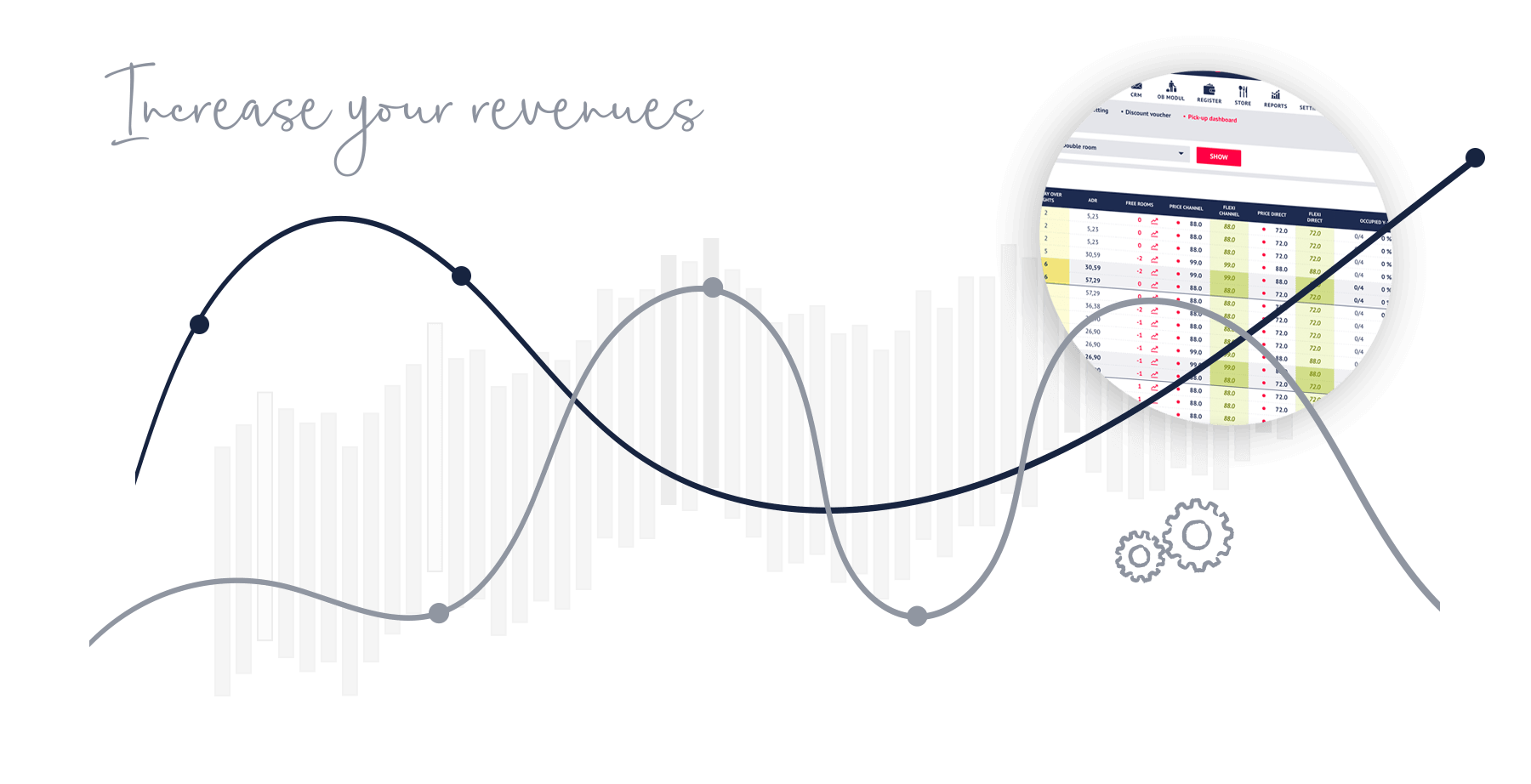 Auto flexi pricingSet your flexi coefficient based on your daily occupancy rates to automate your flexi pricing. Ellipse control your pricing after every occupancy change.
Flexi stay packagesCreate special offers with flexi rates and your extra services. Use various parameters like age of guest, terms in year etc.
Pickup dashboardCheck trends in your sales, number of searches in web booking and in the same dashboard set your new rates both for direct sale and channels.
Derivered pricingBe clever with smart system. Connect your rooms, apartments and rates to the base price and manage only one rate manually.
Occupancy based pricingSet price reductions based on occupancy of room and rental to automate calculation of any stay. Occupancy based pricing available for all your rates and special offers.
Lenght of stayCall to action buttons and add-ons to emphasize better pricing for longer stay. Set discounts for more nights and highlight it during the online booking on your website.
Web booking analyticsTake into consideration numbers of search in your Booking engine. Deep analytics in combination with your ADR, RevPAR and sales trend make your decisions for pricing easier.
History overviewIn your pricing and all dashboards, you can always check data from previous year. Take into consideration sales trends and final occupancy from last year.
Book a demo
Many of satisfied customers
Our customers are large hotels of various specializations, guest houses, apartment concepts as well as small family accommodation rental. Our system adapts to your requirements. The common feature for all is reliability and precision.
45% average direct bookings increase
Hotel Saffron, big congress hotel
Hotel Borovica, wellness hotel
Hotel Chrysso, boutique hotel
Hotel FIS Jasná, ski-in ski-out hotel
Beer wellness and pension
Boutique Hotel Black Horse