Timi is your Booking engine for additional services
Let your customers to book their massage or wellness entrance online. Manage all available time online and increase sales.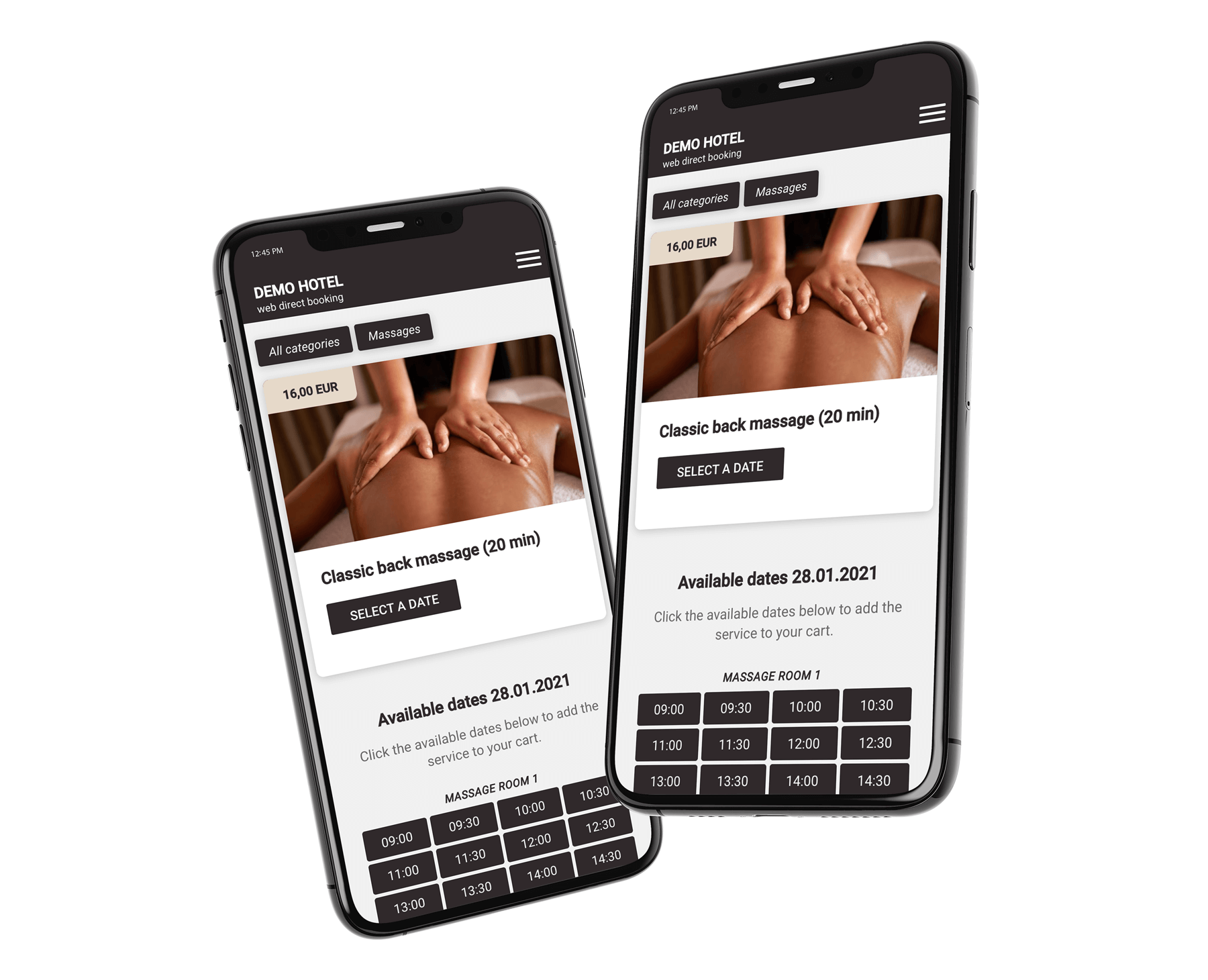 Custom design Your branding, colors, logos is ready with one click. Professional design and UX focus to best conversion rate of your sales.
Mobile ready Whole Timi as Booking engine is ready online and fully prepared for mobiles. All content is touchable and easy to use.
Various settings You can fully customize your settings, rooms, places, services. Manage all combination of services, open times, days of week, specific hours for bookings.
Cross-selling When you sell wellness entrance, popup banner can be opened to upsell your free times for massages or other wellness threatments. Prepare your best seller.
Special offers You can combine your services into special offers stay. After web booking of the stay, guests are welcomed with possibility to fine best time for their services online. One click solution.
In-house guests When your guest are already check-in, you can let them to book free times for services anytime during stay. They can order service from Onboard app and services are directly on their account and online bill.
Online payments For non-accommodated guests your can always offer services as well. For higher price or only specific type of services. Direct online payment is ready in final step of Timi booking.
Easy management You can easily manage your open hours in admin. You can plan upcomming days by number of colleagues on duty or simply close non-available terms.
Book a demo
Many of satisfied customers
Our customers are large hotels of various specializations, guest houses, apartment concepts as well as small family accommodation rental. Our system adapts to your requirements. The common feature for all is reliability and precision.
45% average direct bookings increase
Hotel Saffron, big congress hotel
Hotel Borovica, wellness hotel
Hotel Chrysso, boutique hotel
Hotel FIS Jasná, ski-in ski-out hotel
Beer wellness and pension
Boutique Hotel Black Horse